Sale!
ADATA HDD HD650
Capacity
1TB
Color
Black / Blue / Red
₨10,000.00
Capacity
1TB
Color
Black / Blue / Red
Dimensions (L x W x H)
121 x 81 x 21mm / 4.8 x 3.2 x 0.8″  (1TB/2TB)
126.8 x 98.5 x 26.7mm / 5.2 x 3.8 x 1.01″ (4TB)
Weight
201g / 7.01oz (1TB/2TB) , 390g / 13.7oz (4TB)
Interface
USB 3.2 Gen1 (backward compatible with USB 2.0)
Texture
Plastic / Rubber
Opt. Voltage
DC 5V, 900mA
System requirements
Windows XP / Vista / 7 / 8 / 8.1 / 10
Mac OS X 10.6 or later
Linux Kernel 2.6 or later
Accessories
USB 3.2 Gen1 cable ; Quick Start Guide
Opt. Temperature
5°C (41°F) to 50°C (121°F)
Note
1. HDDtoGo free software only compatible with Windows.
2. Compatibility with specific host devices may vary and could be affected by system environment.
3. Connecting via USB 2.0 requires plugging in to two USB ports for sufficient power delivery. A USB Y-cable will be needed.
4. Please note that USB 3.0, USB 3.1 Gen1, and USB 3.2 Gen1 are in fact the same specification and feature the same exact performance capabilities. The USB Implementers Forum (USB-IF) recently rebranded USB 3.1 Gen1 to USB 3.2 Gen1. For more information about the change, please visit the USB-IF website at https://www.atozelectronics.pk/

HD650 dust and water proof ratings apply only when the USB port cover is firmly closed.
The ADATA HD650 1TB/2TB/4TB External Hard Drive is back stronger and bigger than before. Its impact-absorbing rubber coating and three-layer construction make it extremely durable to protect your contents, all while looking cool. We now offer it in three colors: blue, black, and red. Capacity goes up to 4TB, a milestone for unpowered external hard drives! With USB 3.2 Gen 1 speeds and ADATA-backed quality, the HD650 delivers spacious and secure storage.
Designed to Absorb the Hardest Knocks
The triple-layer construction of the HD650 incorporates unique silicone material with exceptional elasticity to provide great shock absorption on all axes.
Bigger capacity handles more storage needs
Data fidelity keeps increasing, and files continue to grow. Videos are in 4K and will soon be 8K, games are massive, and on it goes. The time has come for larger drives. We're proud to offer the HD650 in up to 4TB, significantly larger than previous generation external HDDs, with USB 3.2 Gen 1 speeds and no power supply.
Dazzling Blue LED Indicator
The HD650 portable hard drive features a brilliant blue LED indicator to indicate power and data transfer status.
Surface Protected
The housing is constructed of a durable composite plastic material, highly resistant to scratching and marring.
Latest Hardware and Interface Specifications
The SuperSpeed USB 3.2 Gen 1 interface delivers blazing data transfer speed, which can be monitored by the blue LED indicator. The HD650 is fully compatible with Windows 10.x (and earlier) operating systems.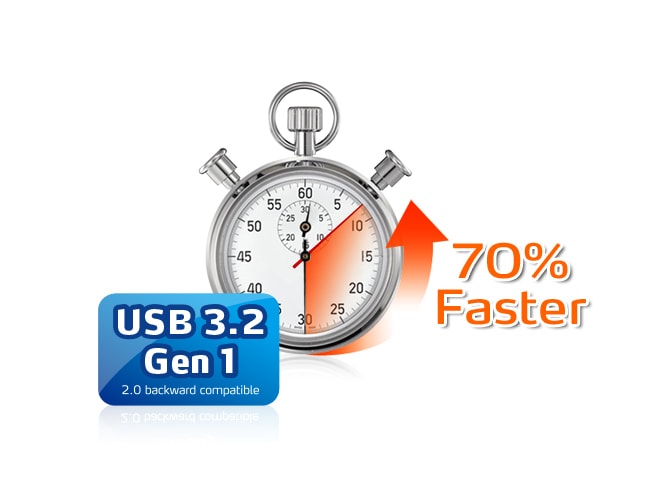 5 Stars

4 Stars

3 Stars

2 Stars

1 Stars
If you finish the payment today, your order will arrive within the estimated delivery time.